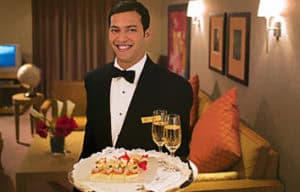 The person in this position must provide the highest possible standard of cocktail/bar/wine service to passengers and staff.
+ info
The Good Spirits Bartender is responsible for leading/hosting an interactive, immersive cocktail-based destination show.
+ info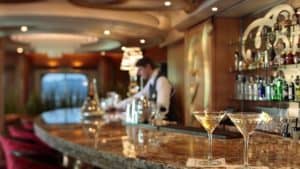 Embraces and utilizes Princess MedallionClass products, services and applications. Actively assists the Bartender in setting up the assigned bar location following brand standards and in line with scheduled opening hours.
+ info
As an Assistant Cruise Director, you will be the Consummate Host by presenting, entertaining, and engaging daily passenger programs and events that delight and serve our passengers
+ info
Our Casino Dealers bring our shipboard casinos to life by keeping our guests entertained while conducting different table games such as Blackjack, Dice, Roulette, Let It Ride, Caribbean Stud Poker, and more!
+ info
Hosts and participates in shipboard recreational, entertainment and social programs geared towards adults and families. Serves as master of ceremonies to motivate, inform and entertain small and large groups of guests throughout their cruise vacation.
+ info
Promote an active lifestyle on board among our guests by encouraging them to participate in recreational activities for different age groups. You will organize and host sports-related activities throughout the day, while putting safety first at all times.
+ info
The Youth Staff department offers an exciting program for children and teenagers from 3 to 17 years old. This department offers a variety of activities, including games, sports, science workshops and educational programs.
+ info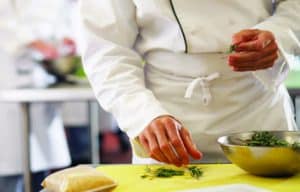 The 1st Commis reports to the Sous Chef and is usually assigned to work under the direct supervision of a Demie Chef Du Partie.
+ info
The person in this position works under the supervision of the Partie Chef and must report to the Sous Chef.
+ info
The Assistant Baker assists the Sr. Baker. He has to assist the Sr. Baker in food preparation and presentation. He also has to Carry out food related activities (cleaning, garbage disposal, equipment checking).
+ info
The Assistant Pastry Chef assists the Sr. Pastry Chef. The Assistant Pastry Chef reports directly to the Sr. Pastry Chef. The Assistant Pastry Chef assists the Sr. Pastry Chef in food preparation and presentation,
+ info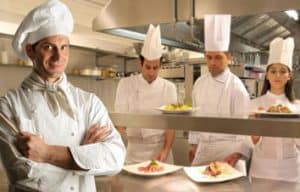 The person in this position supervises all the kitchen staff in his section, making sure that his section has all the necessary utensils and that all the equipment works properly.
+ info
The person in this position works under the supervision of the Partie Chef and must report to the Sous Chef.
+ info
The person in this position works under the supervision of the Partie Chef and must report to the Sous Chef.
+ info
Always carries out production in assigned area/station according to Company recipes and picture presentation as directed by the Executive Pastry Chef / Chef de Partie Pastry.
+ info
Assist the Chef de Partie- Pizzeria to produce The princess signature Pizza product as determined by company Policies and standars. Anticipates and adjust production bassed on passenger demand and consistently practices the C.R.U.I.S.E credo.
+ info
As a 1st Commis Butcher, you will assist the Chief Butcher/Chef de Partie Butcher in ensuring the designated job duties are always completed correctly and promptly according to our company standards, policies and procedures.
+ info
Supervises a front desk team that excels in delivering industry leading service to our guests. Responsible for motivating, coaching, training, evaluating and tracking development on an individual and team level.
+ info
Cleaning and maintaining the outer deck area and pool area ensuring that all trash, used glasses, used crockery and cutlery are removed in a timely and efficient manner
+ info
Responsible for providing the highest standard of service, cleanliness, sanitation and good order in all designated public areas, outside decks or any other areas, as designated by the supervisor and in accordance with company policy.
+ info
Maintaining assigned areas at all times, both inside and outside, following the Company standards for housekeeping, sanitation, environmental commitment, and maintenance.
+ info
It provides the highest standard of cleaning and sanitation in all designated areas (crew or passenger) that may include passenger or officer cabins, corridors, cabinets, pantries, stair lifts, toilets, decks and sleeves.
+ info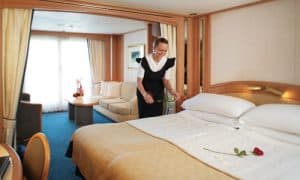 It is the person responsible for providing the highest level of service, cleaning, sanitation and maintenance for the passenger's room as designated by the supervisor and in accordance with company policies.
+ info
Work according to the 6 key principles: show well, the right delights, service wow, destination engagement and magical moments. Assists the Dining Room Manager in directing, supervising and training of all subordinates in the performance of their duties
+ info
He is the person who provides his service on deck, Lido Buffet, hamburguer bar, ice cream bar and provides excellent and fast food and drinks service to passengers in the assigned areas.
+ info
In this position you must provide excellent service during breakfast, lunch, snack, dinner and snacks. The person in this position is responsible for removing the food from the kitchen and taking it to the dining room.
+ info
Sommelier's help enhance our guests' dining experience by recommending the right wines for every meal. You must also be skilled in up-selling techniques to promote and improve beverage sales. Your responsibilities will include, but are not limited to, providing wine service to guests in the restaurant, buffet restaurant and will be assigned to work in our café's and specialty restaurants during breakfast and lunch.
+ info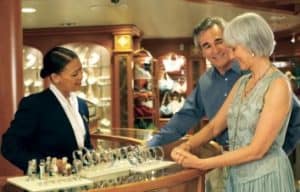 It is a position that requires demonstrating excellent and consistent performance, reaching the sales objectives established in a timely manner.
+ info
He/she performs duties as assigned in the Princess Theatre, plus rotate into other facilities and areas as required.
+ info
The Stewarding department is responsible for meticulously maintaining hygiene and sanitation standards in all areas of the kitchen, ensuring that operating procedures are maintained and adhered to at all times.
+ info
The Second Engineer is a licensed member of engineering school on a merchant ship and assists the Chief Engineer in vessel technical operations including specific tasks and, in all duties delegated by the Chief Engineer. The primary function of the Second Engineer is to supervise the daily operations and maintenance of all machinery including the ballast system, plant and fire-fighting equipment on-board. This section outlines the certification structure and examination and training requirements for Merchant Navy engineer officers.
+ info
Guest and crew medical care for minor to major emergency situations as well as the general medical care of all crew members including preventative medicine and care of chronic conditions while reporting necessary cases to the different port and health authorities of the different ports of call.
+ info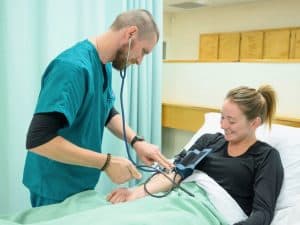 Effectively supports medical team with non-specialized clinical tasks
+ info
Providing a high quality and professional reception and administrative service to guests, crew and medical staff.
+ info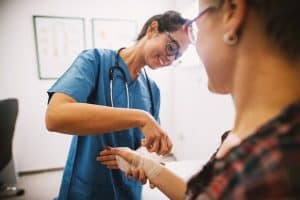 This person is expected to provide medical nursing services to all Guests and Crewmembers who need it. The Nurse shall assist the Staff Captain, Senior Doctor, Doctor and Chief Nurse in all shipboard health-related matters including outbreak prevention, and illness reporting as required by international, national and Company policies.
+ info