We want to be one of the chosen companies in Southamerica and Centralamerica, in recruitment and administration of crewmembers, providing the best opportunities in those who want to work on board, growing personal and professionally.
SELECTION PARTNERS, the best opportunities, the best crewmembers!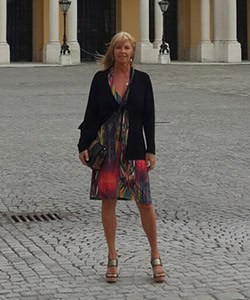 International Operations Manager - CEO
I enjoy working at Selection Partners because I have the chance to interact with a wide variety of individuals. We offer individuals both a professional and personal opportunity to change their lives. I insure that they have the support they need. It is very rewarding to know how they grow and develop during the time they are abroad. The driving force in my job is to help our candidates to make their dreams become true linking this with our business partners' and customers' expectations.
Alejandro "Alex" Spinelli
I believe than in this new XXI, development, learning and growth is closely linked to the social networks. Thus, as the end of XX century saw the Human Resources playing a key role in people's development, today the Social Networks acquire a major role in human development. My purpose, aligned with Selection Partners vision, is to communicate work availability to help to optimize the opportunities of growing for our customers, associates and team members.
Angelo Michael Tramontana
Embarkation Administrator for Rehires except Peruvians, Brazilians and Hondurans (Princess) - Embarkation Administrator for the candidates of Costa Crociere and Starboard
My Work at Selection Partners is to administrate Crew Members from Brazil, Chile, Uruguay, Argentina, Colombia and Central America. After so many years in this industry Selection Partners has given me the opportunity to express knowledge and work experience for those crew members who just started. Being an 1st Officer in Guest Relations and Concierge I have learnt that Professionalism, Good Conduct and Discipline are the essence for a great career. This is what we want to convey to each of our applicants who are looking for success on board our Cruise Ships.
Embarkation Administrator for Chileans and Peruvians New Hires (Princess) - Interviewer - Recruiter of all nationalities for RCCL
After having worked for eight years on ships, I enjoy sharing my knowledge, experiencing and giving new possibilities to crew members, so that they can live this great experience of travelling and working all around the world, discovering new cultures. I share with you the possibility of living and taking part of this life overseas, learning from an either individual and team work, while you travel and visit new places.
Embarkation Administrator for Peruvians rehires (Princess)
Being part of Selection Partners gives me the chance to grow every day. Helping everyone discover the world and experience new adventures is a challenge I share with a group of excellent professionals.
Embarkation Administrator for Brazilians and Argetineans New Hires (Princess and P&O Australia) - handle the communication in the social media
Selection Partners gives me the chance to build the dream of those who wish to embark on this adventure. My mission is to provide all the necessary support to make it happen and, at the same time, make this adventure a unique experience. Every dream is important for us and Selection Partners works individually with every candidate to fulfil it.
Recruitment Specialist - Coordinator for Royal Caribbean Group - RCCL - Responsible of the communication through the Newsletters
The experience onboard is much more than a job opportunity, it is also a great possibility to discover new worlds. Being able to offer people to embark in this journey, not just as a profitabe activity but as a self development and self discovery journey, makes our daily work even more meaningful. Being part of the team that every day helps to make a lot of people's dreams come true makes our jobs even more rewarding.
Embarkation Administrator for Hondurans (Princess) - Embarkation Administrator of Peruvian JWTRs and WTRs (Princess)
Throughout history various cultures have been kept awake by the wonderful dream of knowing the whole world.
Today, with every destination already known, what remains is to discover it by ourselves. And what better way than that we are also paid for it?
Our challenge in Selection Partners is to provide the crew all the chances so that they can enjoy a successful work experience, as it was dreamed and without inconvenience.
Selection Partners is giving me the opportunity to acquire the knowledge from the cultural exchange with people from all over Latin America, which I consider invaluable.
Embarkation Administrator for Royal Caribbean
CHALLENGE
Personal and towards the group of SP colleagues and candidates who join us to work on the cruises.
NEW EXPERIENCES
For being an activity full of novelty and dynamism.
OPPORTUNITY
To discover people, places and moments out of the ordinary.
Freedom Cruise Jobs
Freedom was born from the alliance between Selection Partners and young people with initiative, freedom of mind and creativity. We are honored to be hand in hand with this great company because together we can provide a quality service and inspire trust in our crew members.
Our prime mission is to guarantee excellence and professionalism in our crew members so that they can achieve significant results within the cruise companies.
We are happy to work with Selection Partners because, with them, we can help people to fulfill new life and career goals, sharing with them all our experience working onboard.
Please send us your CV to [email protected]
WhatsApp/ Mobile phone: +543885970296
Office phone: +543884244459
Skype: live:f5f13fa5548f9628
MIHA
Our mission as the Argentine Maritime Academy is training professionals in labour
competencies at an international level for the Cruise Ship Industry. This means providing
young people and adults with a comprehensive education adapted to modern times, an
education that enables equal opportunities to all the students and satisfies the needs of the
national and international labour market.
As a new era begins, new challenges arise. We are aware of it, and that is why our program
includes constant training and evaluations in order to help our students enter the industry and
stay on their contracts, thus achieving professional and economic growth
https://miha.com.ar/
Betanbauer
BETANBAUER is an Argentinian agency based in Cordoba that has been promoting academic and cultural exchanges since 2006, offering a wide range of programmes. 
With the aim of continuing to develop new proposals, we have teamed up with Selection Partners to disseminate job offers on cruises.
From this perspective, we will be in charge of the pre-selection of suitable candidates to work in high-class shipping companies and thus enjoy a unique experience on board of a cruise ship discovering incredible destinations.
Please send us your CV to [email protected]
WhatsApp/ Mobile phone: +54 9 351 2 46 16 75
Office phone: +54 351 426 4276
Brasil - Infinity Brazil
Brasil - Portside
Perú / Chile - CRC
Nicaragua / Honduras - Esmarth
Cruise Talents -Colombia